My Image Studios LLC is the owner and operator of MIST Harlem, which includes Harvist Restaurant. We are a fair trade social venture planned, programmed and built to share the authentic and diverse cultures of the African and Latino diaspora. Though culturally specific, the stories – whether told through food, film, dance, spoken word or music – are about universal themes that bind us all together.
Fair Trade Defined
By fair trade we mean that we are fully engaged in the ethical exchange of goods and services among our neighbors both locally and globally. Fair trade necessarily includes our procurement processes for items including chocolates, coffees, and teas as well as the procurement of entertainment talent with whom we share our revenues. MIST Harlem is an environmentally-friendly green business. We are located on the first floor of the Kalahari, Harlem's first LEED Gold building. In designing and building MIST Harlem we have been careful to select environmentally sustainable materials which minimize consumption of resources, improve air quality, reduce energy consumption, preserve resources for future generations yet provide an inviting space, which we affectionately call, "Harlem's Living Room". We are working hard to reduce our waste stream thru recycling and working with local food banks.
Beyond preserving the environment, MIST is concerned with empowering our employees and our community. MIST employs 80 people, largely hired from the Harlem community. We train and cross-train in hospitality and technical production services as our objective is to develop an employee pool with marketable and honed skills that will make our service to our customers even better.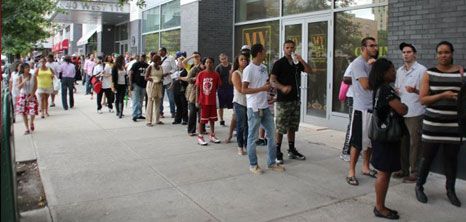 The Studios at MIST
MIST offers three flexible studios, the most versatile and technologically sophisticated entertainment and hospitality space in NYC. The studios have been designed to accommodate film screening of independent and Hollywood studio productions; live performance of music, spoken word, and dance; corporate and community meetings; banquets; private parties; and production of original content for webcast; streaming or broadcast. The studios are acoustically isolated from each other, which means a movie may project in one while a live band is in the other with no sound infiltration between the two. The studio's acoustic performance and flexibility of arrangements offer a wide variety of options for performances. The stadium seating operates hydraulically and the telescoping systems accordions into the walls providing an entirely flat floor for a variety of events. You really need to see it to get.
Seating capacities are as follows:
Studio A: 92 stadium seats

Studio B: 165 Stadium seats

Studio C: 92 Stadium seats

Depending on the configuration, the studios can accommodate up to 900 people standing for performance; 300 people seated for banquets; 280 stadium seated for lectures; music; spoken word or community discussions. All live events can be filmed for rebroadcast or streamed from the robotic and hand held video cameras throughout the studios.
Our state of the art equipment includes:
One Christie CP4220 DLP 4K Digital Cinema Projector (Theater B) and two Christie CP2210 DLP 2K Digital Cinema Projectors (Theaters A & C) with JBL speakers (8320 surround, 4722 screen) and subwoofers (4641)

LED theatrical lighting with digital control board

Digital sound mixing boards

Fiber optic broadband connections with 35Mb/35Mb data rate (increasable to 150MB/35MB)

Wireless broadband

Cell phone amplification system for social networking and talking